Research & Interpretation
(The longtime mantra: "Talk is cheap. See the work." To see the work,
scroll down to links to varied research and interpretation projects.)
Okay, you've mined your vast archives for material related to a new exhibition coming up next year. You've mobilized a great team of volunteers to extract information. They've come through again, and delivered you a mountain of simmering, tantalizing, relevant facts. But you realize that, with all your other responsibilities, by the time you digest all the material and whip it into shape, it will be the year 2027. In this situation, Variety Arts Enterprises can help.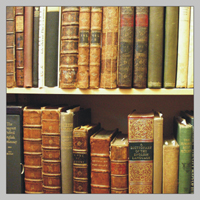 R.W. Bacon has been a researcher since his days as a newspaper journalist in the 1960s ... in the profession that writes "the first draft of history." Years later, during a long career as a performing artist, he researched and wrote two books on arcane specialties, investigating the roots of skills that extend back to the beginnings of American vaudeville and European circus. During the decades of presenting theatrical shows packed with period flavor and content, one constant challenge was how to get the material across the footlights and connect with the contemporary audience in a fresh and immediate way. (Years later, during a graduate school lecture, he was tickled to realize that for years he had been an unwitting practitioner of the principles of museum interpretation.)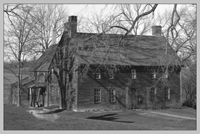 Local history and family history research are particular specialties. R.W. Bacon is author of eight books on multifarious history topics, and for over a decade has been editor of The Middler, the research journal and newsletter of the Society of Middletown (Conn.) First Settlers Descendants. In his work for a regional preservation organization, he has researched and prepared guide manuals for staff, created interpretive materials for the public, and served as a guide at numerous historic house museums. (Above right: the Coffin House, Newbury, Mass., c. 1678, in a 1940 photo from the Library of Congress.)
R.W. Bacon brings to your research & interpretation project the tenacity of a hard-digging old-school news reporter, the organizational skills of an author/historian, the clear writing of a professional journalist, and the context-aware interpretation skills of an experienced public communicator.
But talk is cheap! See relevant work samples and commentary by clicking on the links below. Don't hesitate to call or e-mail with any questions. I would be happy to meet with you to discuss your project. --- R.W. Bacon.
Talk is cheap. See the work ...
... in research and interpretation.
A selection of general research resources:
History research resources:
Genealogy research libraries:
Preservation organizations:
For those interested in the finer points
of the research & interpretation professions ...