Presentations & Exhibition
Programs on American Vaudeville 1880-1930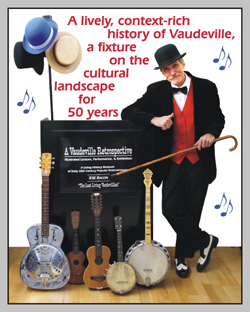 Variety Arts Enterprises presents five different programs relating to the performing art, big business, and cultural phenomenon of American Vaudeville from 1880 to 1930. This introductory page --- and the more in-depth pages listed in the menu at left --- aim to inform potential host venue curators about the programs, their structure & content, and the fascinating subject of Vaudeville in general.
Created by a veteran variety performer and museum professional whose mentors included troupers from the last generation of vaudevillians, the programs are designed specifically for museums, historical societies, libraries, and college theatre departments. The presentations are a combination of illustrated lecture, performance, and exhibition. Program content includes (in addition to the context-rich lecture ...) digitally-projected graphics, video clips, audio samples, and of course, live performance segments by presenter R.W. Bacon as "The Last Living Vaudevillian."
A presentation for your museum. Program content complements virtually any late 19th- or early 20th-century topic, and programs can be customized to dovetail with relevant programs or exhibitions. For the next decade at least, presentations in conjunction with "centennial" exhibitions are welcome --- and will be most relevant. "A Vaudeville Retrospective" is ideal as a member event, staff event, fund-raiser, educational session --- or simply as a literate, informative, & fun public program.
Primary Programs:
Related Programs: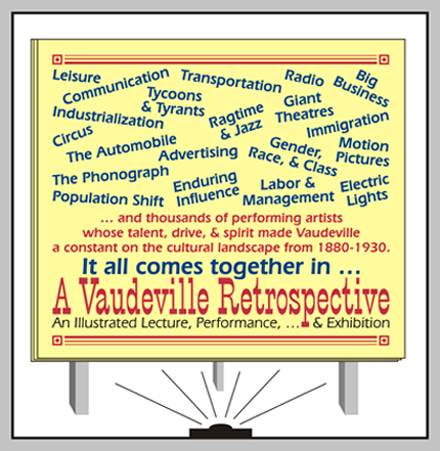 "A Vaudeville Retrospective" ------ A context-rich presentation
Program Brochure ...
& A Curator's Primer on American Vaudeville