About Variety Arts Enterprises
The fine print about a mission to enhance public understanding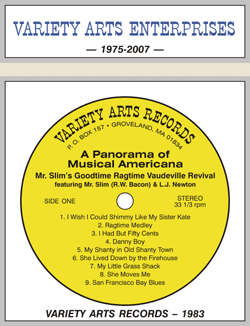 Variety Arts Enterprises provides a variety of services to museums, historical societies, and cultural organizations. Services include research, writing, editing, graphic design, museum interpretation, and digitization of collections. Variety Arts Enterprises also presents the illustrated lecture, performance, and exhibition, "A Vaudeville Retrospective: The Living History Museum of Early 20th Century Popular Entertainment."
From 1975 to 2000 Variety Arts Enterprises was the personal management entity for two touring theatrical shows with a historical slant, "The Goodtime Ragtime Vaudeville Revival" and "Mr. Slim & L.J. --- Classic Comedy Juggling," both featuring R.W. Bacon and L.J. Newton. Under the banner of Variety Arts Press and Variety Arts Records, R.W. Bacon authored and published two books on his juggling specialties, and produced an LP record album (on vinyl!) that was marketed in conjunction with performances, "A Panorama of Musical Americana." Interspersed with theatre, variety, and circus tours were performances at numerous history and art museums. R.W. Bacon designed the outdoor Alcove Theatre at the Museum of New England Heritage (S. Carver, Mass.), and for 10 years performed selected dates at this museum, which was part of an earlier incarnation of Edaville Railroad, a historic "age-of-steam" railroad park on southern New England's "Americana Trail."

A graduate of Syracuse University's Newhouse School of Public Communication and Maxwell School of Public Affairs, R.W. Bacon worked as a journalist, editor, and publication designer since 1965 before launching a performing arts career. In 1977, his wife, the precision club-juggler L.J. Newton, added her talents to the mix. After 23 years and many thousands of performances in venues ranging from the circus arena to the legitimate theatre, L.J. Newton (by now a.k.a. "Mom") retired from the stage. Subsequently R.W. Bacon (by now a.k.a. "Dad") reduced his solo touring schedule, and re-entered the profession of editing and publication design. (Egad! He even designs identity materials and advertising for the for-profit world!) In 2006 he completed the Harvard graduate program in Museum Studies --- rigorous professional training reinforced with a lengthy internship --- that uses Harvard's on-campus art and natural history museums as real-world laboratories. Upon graduation he began work as both an independent museum professional and as a part-time employee of a prestigious regional preservation organization --- a balance that continues today. Augmenting the graduate education were courses on archives management and digitizing historical collections offered by the American Association for State and Local History especially for cultural heritage preservation specialists.
R.W. Bacon closed the book on commercial showbusiness in late 2007, after filming was completed for an MGM/Columbia Studios film for which he was a prop consultant and juggling stunt double for the principal actor. Since then, attention has turned to promoting the historical program conceived especially for museums, "A Vaudeville Retrospective," --- and providing the highest level of professional services.