About the Presenter:
R.W. Bacon as "The Last Living Vaudevillian"
R.W. Bacon is an all-but-retired acrobatic juggler, comic dancer, and jazz banjoist/vocalist --- and a nowhere-near-retired historian and museum professional.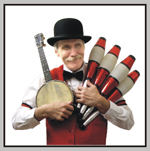 A graduate of Syracuse (N.Y.) University and the Harvard Museum Studies graduate program, Bacon was a journalist/editor and publication designer before embarking on a 30-year career to tour nationally with his wife, the sensational and speedy club-juggler L.J. Newton, in their now-retired theatrical shows, The Goodtime Ragtime Vaudeville Revival (a panorama of music, song, dance, & comic/acrobatic juggling), and Mr. Slim & L.J.: Classic Comedy Juggling. Decades of shows at theatres, colleges, museums, and special events were spiced with performances for circuses, revues, television, & film. Through the years, venues ranged from the most palatial theatres to the most rickety fairgrounds stages. Career highlights included national tours with the Riverboat Ragtime Revue, multiple editions of the International Cavalcade of Stars all-star circus, engagements at America's finest theatres and resorts, and roles in New York stage and Hollywood movie productions.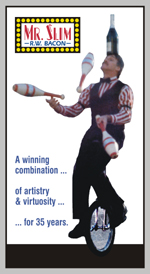 R.W. Bacon enjoyed an early exposure to showbusiness. His father was a 1940s nightclub sleight-of-hand artist and erstwhile big-band baritone who later gained notice as "the Great Hardeeni" --- an escape act in the tradition of Harry Houdini. His grandmother, a classically-trained pianist and singer, was a silent moviehouse pianist and free-lance music director. Early in his career Bacon had the good fortune to encounter valuable --- and legendary --- mentors, such as comic juggler Albert Sahlstrom of the Royal Danish Circus, "Huberto," the ageless, show-stopping tight-wire acrobat, and Sammy Lyman, the well-traveled eccentric tap dancer. As a juggler, Bacon's artistic lineage includes juggling greats Bela Kremo, Bobby May, and W.C. Fields. Through the early years of his travels, encounters with veteran performers exposed him to authentic Vaudeville performance styles. Since then Bacon's broad study of American vaudeville and European music hall and circus entertainment has contributed to the development of a repertoire of rarely-seen juggling, manipulative, and acrobatic skills.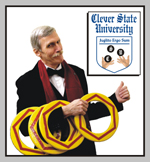 In a teaching role, the author's courses, workshops, and individual coaching have informed a generation of professional performers --- his proteges have performed on every continent except Antarctica. Bacon is the author of two books on his juggling and manipulative specialties: The Juggler's Manual of Manipulative Miscellanea: The Classic Skills with Hats, Cane, Plates, Nesting Cups, and Assorted Objects; and The Juggler's Manual of Cigar Box Manipulation & Balance.
In the museum field, Bacon works seasonally for a regional preservation organization and also as an independent museum professional, with specialties in editorial services, graphic design, and interpretation. He is the author of Just a Tot in Tannersville: Recollections of a Railroad Avenue Boy on the Busy Summer Life of the 1950s, incorporating A Micro-History of the Tannersville Four-Corners (2011), a personal memoir and local history of a Catskill Mountain (N.Y.) Armenian "Yogurt Belt" resort town in the 1950s, and Early Families of Middletown, Conn. - Vol. I: 1650-1654 (2012), which was recognized with the Brainerd T. Peck Award for local history and genealogical writing. Work continues on a long-running project, The Curator's Guide to American Vaudeville, a capsule history, annotated bibliography, and companion to the museum presentation and exhibition, "A Vaudeville Retrospective."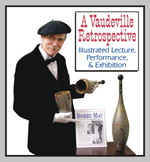 He is a member of the American Association for State and Local History (AASLH), the New England Museum Association (NEMA), the New England Historic Genealogical Society (NEHGS), the Circus Historical Society (CHS), the American Vaudeville Museum (AVM), the Theatre Historical Society of America (THSA), Historic New England (HNE), and numerous local/regional historical societies.
The current museum presentation was conceived after Bacon completed the Harvard graduate program in Museum Studies in 2006, began work for a regional preservation organization, and closed the book on a long and fulfilling showbusiness career. Several years in preparation, "A Vaudeville Retrospective" is a culmination of his parallel careers in performance, research, and museum interpretation --- all driven by the firm belief that public understanding of "big picture" history enhances the quality of our lives.
Is R.W. Bacon really "The Last Living Vaudevillian"???
No, not literally, but in some segments during "A Vaudeville Retrospective" he assumes the character of "The Last Living Vaudevillian." Strictly speaking, there are 85-year-olds still with us who in 1930 were children working in Vaudeville with their families. Vaudeville's last gasps extended for decades, however, as the genre morphed into post-WWII nightclub variety. Many sage veterans of 1950s-60s circus and variety survive, and indeed number among your presenter's cherished friends and mentors. Your presenter chose the identity of "The Last Living Vaudevillian" for this museum program because it is clearly a role he can grow into. With health and good fortune, he may eventually attain the title's literal status!
Links of interest: